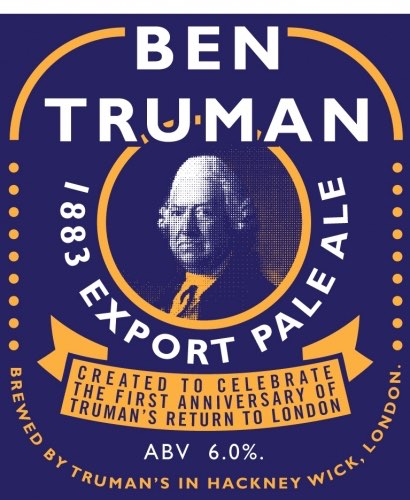 Truman's Brewery has just moved its main site up the Lea Valley from Fish Island opposite the Olympic Park to Walthamstow.
This may not be as handy but it's good news that the brewery is staying in the Lea Valley.
Indeed, having left Fish Island, Truman's has been brewing at Crate Brewery's riverside Queen's Yard in nearby Hackney Wick.
Truman's was founded in 1666 when the Great Fire of London fortunately missed the East End and allowed the brewery to became famous. Especially recognisable was its ale with Ben Truman's portrait on the label.
Sir Benjamin (1699-1780) was third generation Truman and greatly expanded the company after winning royal approval from George II and George III who knighted him. Sir Benjamin's portrait was painted by George Romney and Sir Thomas Gainsborough.
The brewery closed in 1989 but the name was reborn on Fish Island in 2013.
Lea Valley walkers come across Sir Benjamin Truman at Hertingfordbury where he lies in the churchyard. He is said to have worshipped there for years to avoid meeting Samuel Whitbread at Essenden Church although it was nearer home.
The popular Bow Bells Citrus Pale Ale brewed on Fish Island by the new Truman's must surely have owed something to nearby Bow and its bells as well as Cheapside's.
Truman's Social Club, as the new brewhouse and bar is being called, is at 1 Priestley Way E17 6AL, east of Tottenham Hale Lock and near Blackhorse Road Station.