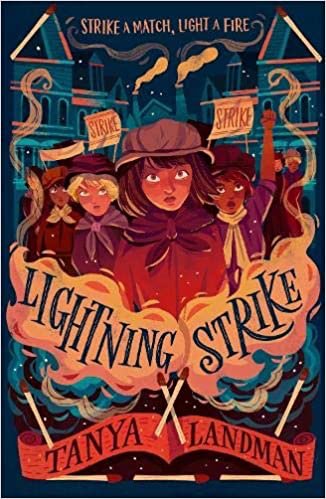 Tanya Landman's latest novel has an appropriately 'striking' cover by Chaaya Prabhat which may encourage an instant purchase.
Lightning Strike seeks to tell to younger readers the true story of the terrible working conditions which led to the Matchgirls Strike in 1888. This was a turning point in Bow and the development of trade unionism.
Today the rebuilt factory is an unmissable outline seen by walkers passing down the Olympic park.
However, it may be a pity if the novel ends up turning a myth into fact in the minds of young people. The matchgirls' story is dramatic enough without need for embellishment.
The book weaves in the 20th-century myth that the landmark statue of William Gladstone in Bow was paid for by the workers having money deducted fro their wages.
There is no record of this.
The story is linked to the fact that in recent years the former prime minister's right hand, nearest the factory, has been painted red.
Historian Richard Jones has a looked closely at this myth and explains why the statue was erected. The Gladstone government had responded to public opinion.
Today the Matchgirls Memorial campaign is hoping to erect a Matchgirls statue.
Young people who read the novel should also go and enjoy the Lea Valley around Bow. The factory exterior in Fairfield Road can be seen and a former convent is now a gallery with a handy Nunnery Cafe.
Gladstone stands outside the historic 'village' church pointing, not so much at the Bryant & May match factory, but the now closed public conveniences.