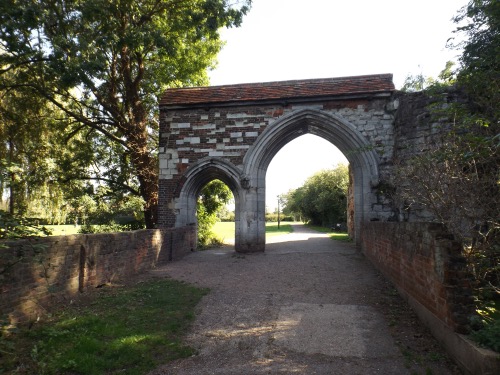 The pilgrim road from London to Walsingham in Norfolk before the Reformation was the for much of the way the road built by the Romans.
The new route being launched this Saturday 3 September avoids that now polluted main road by directing pilgrims up the Lea Valley Walk to Ware with use also being made of the parallel New River.
Highlighted are Waltham Cross and Waltham Abbey, both associated with pilgrimage and travel, and Great Amwell's 11th-century church.
Walsingham is a draw for its restored shrine of Our Lady of Walsingham. This takes the form of a chapel to the dimensions of the outer home of the Virgin Mary in Nazareth -the little house built at the entrance to the cave home. It is similar to the original now reassembled at Loreto in Italy.
Taking a safe car-free route to Ware is significant says Andy Bull who has written the guide. He quotes the rector of Waltham Abbey as claiming that in the past the abbey community, and arriving pilgrims seeking Waltham's Holy Cross, followed the river for travel.
The riverside town of Ware was a major stop on the way to Walsingham as it was considered to be a day's journey out of London.
The suppression of the pilgrimage in 1538 under Henry VIII hit Ware badly and, in desperation during the reign of his daughter Elizabeth, the inn keepers resorted to inventing a new tourist attraction. This was the giant Great Bed of Ware which was so successful that it featured in William Shakespeare's Twelfth Night and Ben Jonson's Epicoene.
Almost three hundred years later it was still attracting tourists to the Lea Valley at downstream Rye House. The bed is now on display in the Victoria & Albert Museum.
The new guide has plenty of good photographs and a clear explanation of the Walsingham heritage.
London to Walsingham Camino by Andy Bull (Trailblazer £17.99).